Many Nigerians know Alex Otti as the governor of Abia State, but he is also an economist, banker, and investor.
Otti has worked as a group managing director for Diamond Bank Plc. Other well-known banks where he has worked in the past include the United Bank for Africa (UBA) and the First Bank of Nigeria, PLC.
After his rise to power as governor, many individuals have asked questions like, Who is the wife of Dr. Alex Otti? Alex Otti's wife is Priscilla Otti, the mother of his children and first lady of Abia State.
Who is Priscilla Otti?
Priscilla Otti is a businesswoman who also worked in the banking sector. Priscilla was born on the 28th of June, 1970, in Aba, Abia State. This is where she spent most of her childhood and later proceeded to obtain her junior education at the Girls High School in Aba.
Priscilla Otti is also a graduate of economics from the University of Nigeria, Nsukka. She has always been a great support for her husband, Alex Otti.
Priscilla Otti and Alex Otti have three children. Although they have chosen not to reveal certain information about their private lives, she has been instrumental in the lives of both her children and husband.
Priscilla Otti is also passionate about human rights, child care, and women's empowerment. She has proved herself as ready to offer helping hands to the needy by visiting orphanage homes and helping out women who need help.
In August 2023, Mrs Otti visited the Ngwa Road motherless home and the Seventh Day Adventist motherless home in Aba. She shared pictures from the visit on her social media page while narrating her experience.
According to Mrs. Otti, she was able to extend genuine love and compassion to the children as a mother of the state.
See pictures from the visit below: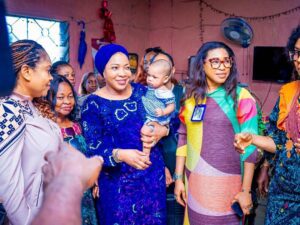 She also attended the maiden edition of the August Women Delegates Conference (AWADEC) held at the International Conference Center in Umuahia. The event had women from the 17 local Government areas in attendance.
See some pictures from the event below:
Bottom Line
Alex Otti's wife, Priscilla Otti is a mother, graduate, and businesswoman who has impacted lives positively since she assumed office as first lady of Abia State.