Michael Farrand Bennet is a US senator who has been involved in politics since 2003. Bennet is the son of a former State Department official and president of Wesleyan University, Douglas J. Bennet.
Michael Bennet is not just a politician. He is also an American attorney and businessman who has worked as a law clerk and was counsel to the U.S. Deputy Attorney General during the administration of Bill Clinton.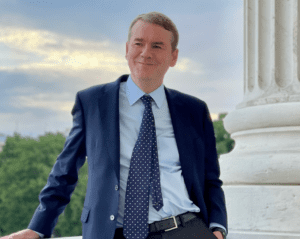 Bennet, who has been serving as the senior United States senator from Colorado since 2009 is married to Susan Daggett.
The couple has been married since the fall of 1997 in Marianna, Arkansas, United States. But who is Susan Daggett, and what does she do for a living?
Who is Susan Daggett?
Susan Daggett is the wife of US Senator Michael Bennet. Daggett is the Executive Director of the Rocky Mountain Land Use Institute, and also an Associate Professor at the University of Denver Sturm College of Law where she teaches in the area of land use and sustainability.
Susan Daggett graduated from Mount Holyoke College and received her law degree from Yale University. As an Attorney, has previously served in the Rocky Mountain office of Earthjustice as Managing Attorney, and also worked as an independent consultant to non-profit organizations engaged in energy-related advocacy.
Earthjustice is a non-profit public interest law firm.
Susan Daggett and her husband, Michael Bennet, have three daughters, namely Caroline, Helena, and Ann.
Bennet has been known to share photos of beautiful moments with his family on social media.
View this post on Instagram
What You Might Not Have Known About Susan Daggett
Daggett comes from a long line of lawyers and is also a law graduate. According to Daggett, her father, uncle, grandfather, great-uncle, and their fathers and uncles for a few generations back were all lawyers.
Daggett had her wedding on a farm. In an interview, she revealed that while at Mariana, Arkansas, the only place to have a wedding had the reputation of being for whites only, they set up a big tent in a cow pasture.
The wedding was attended by people who came from all over that cow pasture in Arkansas, and the lead singer at the event was an African-American vocalist named Joyce Cobb.
Bottom Line
You now know that Michael Bennett's Wife Susan Daggett, graduated from law school and practiced law before she focused on teaching.