Raphael Warnock is a US politician and Baptist pastor who serves as the junior United States senator from Georgia.
Warnock is a politician who is attributed to various achievements, such as being the first African American to represent Georgia in the Senate, and also the first Black Democrat elected to the Senate from a Southern state.
As a Pastor, he has been the senior pastor of Atlanta's Ebenezer Baptist Church since 2005 and was also the senior pastor of Douglas Memorial Community Church until 2005.
A man who has built his reputation in society over the years, but is he married? If so, then who is he married to? No, Raphael Warnock is not married but was previously married to a woman named Oulèye Ndoye.
Who is Raphael Warnock's Ex-wife?
Raphael Warnock's Ex-wife, Oulèye Ndoye, is a successful career woman with over 10 years of experience in health and human rights.
The couple held a private ceremony in January 2016 at Historic MLK Church, and on February 14, 2016, Raphael Warnock's wedding to Oulèye Ndoye was made public in a colorful ceremony that had lots of people in attendance.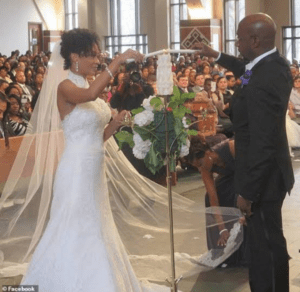 They separated four years later, in November 2019, and their divorce was finalized in 2020. During their time together, they had two children, born in 2016 and 2018. The names of their children have not been made public by either of them.
How Old is Raphael Warnock's Ex-wife?
As of 2023, Raphael Warnock's Ex-wife, Oulèye Ndoye, is 38 years old. The particular date of birth of his ex-wife is unknown, but she was born in 1985.
How Many Times Has Raphael Warnock Been Married?
Warnock has been married only once, to Oulèye Ndoye. The couple had been married for four years and had two children together.
Why Did Raphael Warnock Divorce?
The reason why the couple settled on divorce was not made public, but during their divorce proceedings in 2020, Ndoye accused Warnock of running over her foot with his car during a verbal argument.
According to an Atlanta Police Department report, Ndoye was reluctant to show her foot to the responding police officer after Warnock had called police to the scene. Medical professionals who also arrived at the scene were unable to locate any swelling, redness, or bruising on her foot.
How Many Children Does Raphael Warnock Have?
He has two children with his ex-wife, Ndoye.
In February 2022, Ndoye filled out an 11-page document asking the court to modify their child custody agreement, granting her additional custody of their two young children so she could complete a Harvard University program. The filing also asked for a recalculation of Warnock's child support payments because of his "substantial" increase in income after his victory.
Bottom Line
Raphael Warnock was previously married to human rights policy advisor, Oulèye Ndoye, but has not remarried long after their divorce.